Why Mindfulness for children?
Children have a lot of 'to-do's' on their plate and can feel the pressure of wanting to achieve. They can find the on-switch, but it is sometimes more challenging to find the 'pause-button'. There is growing evidence that mindfulness has a positive effect on learning to calm down, focus, increase creativity, self-confidence, and compassion.
My own experience with Mindfulness 
I had my first introduction to mindfulness at the International School of The Hague where I was working as a school psychologist. I followed the MBCT training together with colleagues in 2012. This training provided me with the opportunity to reflect on my own well-being. Previously, I would come home with headaches and overthink conversations and situations as I wanted the results to be perfect. With mindfulness it became easier to surf the waves.
After experiencing the power of mindfulness myself I completed the Paws training of the Mindfulness in Schools Project (MiSP) in London in April 2015. The training provided me with the first tools to introduce mindfulness to children in the age range of 7-11 year old. I wanted to be able to introduce my own children to mindfulness and teach it in the classroom setting and in my own private practice, therefore I decided to strengthen my knowledge and skills with the training of Eline Snel. I completed this training in October 2018 and this training qualified me to work with children in the age range of 5-16 years old.
What does the training consist of?
The method of Eline Snel is an eight-week mindfulness training for children aged from 5-14 years old. There is a division in three groups, one for 5-8-year-olds, for 8-11-year-olds, and for 11-14 year-olds. I've also added a group of 13-16 year olds. 
During the training, 45 minutes per week, children learn to stabilize, focus and shift their attention using a kind, attentive attitude. They become familiar with their inner-world, thoughts, and feelings without attaching judgments. They learn to address turmoil with calmness and to acknowledge troublesome thoughts. And above all: they learn to be kind, to themselves and to others.
Alongside these weekly sessions, parents will receive a weekly newsletter summarizing the content of the session that week and recommendations of exercises that can be done at home. These exercises can also be found in the book "Sitting still like a frog" which you will receive after enrolling. 
How big is the group?
All courses, 5-8-year-olds, 8-11-year-olds, 11-14 year-olds and 13-16 year olds will be in a group with a maximum of 6 children. You can also contact me if you are interested in arranging private sessions for your son or daughter.  
When and where will the next course start? 
The next upcoming course will be published on this website. You can also get in touch to hear more about possible private sessions. If you are interested in one of the courses please do get in touch. I keep a register and will inform you by mail once new dates are known. 
The course will take place at my office at Nassauplein 20 or at the studio of Thriving Life in Wassenaar.  
Fees?
The costs of an 8-week course are 300,- euro,  including VAT. This price also includes all the materials and you will receive the book "Sitting Still Like a Frog" for younger students and "Breath through this" for teenagers.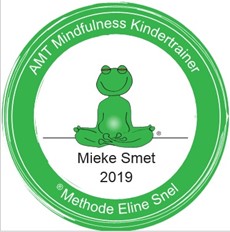 "I am now much better at focusing. I notice this in class as I'm not talking to my friends and focus on the teacher" 
8-year old participant